2nd PACE Applications Workshop
September 15-16, 2021
Virtual Event (WebEx)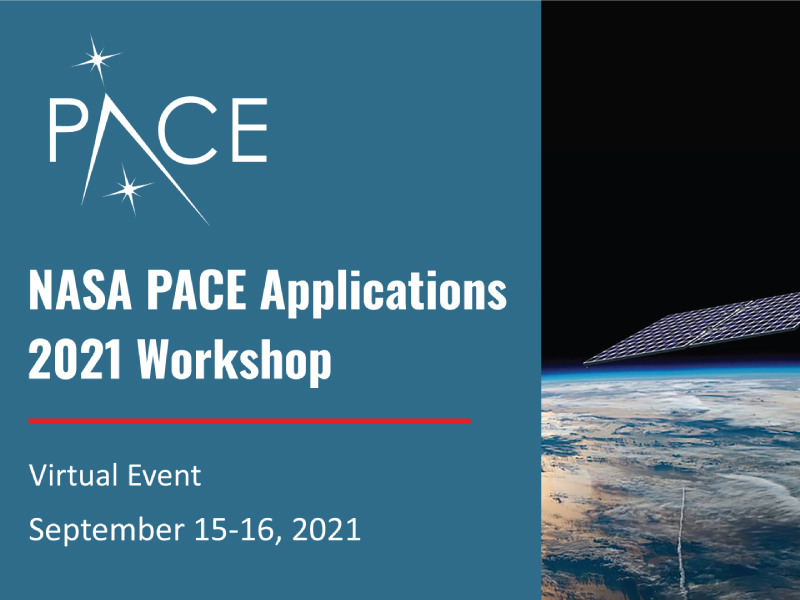 Workshop Archive »
The NASA Plankton, Aerosol, Cloud, ocean Ecosystem (PACE) Applications team invites the research, applied sciences, and decision-making communities to the 2nd 2021 PACE Applications virtual workshop.
This 2-day event will focus on future uses of PACE satellite data, products, and applications to benefit society and support decision-making in the context of water resources, air quality and health, climate, disasters, and ecological forecasting.
Agenda »
Speaker Bios »
The PACE mission is NASA's next great investment in Earth Science, continuing NASA's legacy of over 40 years of satellite ocean color measurements. PACE will advance our Earth-observing and monitoring capabilities through hyper-spectral imaging and multi-angle polarimetric observations of the coupled ocean, atmosphere, and land ecosystems. PACE will give us an unprecedented view of the Earth and will take the Earth's pulse in new ways for years to come.
The objectives of the workshop are:
Provide an overview of PACE Mission, Data, Products & Mission Applications
Understand critical needs and challenges of communities that are interested in working with PACE data and identify ways to address challenges and data barriers
Promote partnerships & community development, encourage engagement/inclusivity with the PACE user community, other Earth missions, resource managers, decision-makers, and identify opportunities for capacity development
Identify advanced & exploratory PACE products that align with stakeholders and identify potential applications not currently under consideration by the Mission
The workshop invites participants interested in applying PACE data for resource management, decision-making, public health applications, and other innovative application areas. This workshop will encourage open collaboration from individuals and organizations from diverse backgrounds including US and international universities, research organizations, government agencies, as well as the commercial, non-profit, and private sectors.
This will be the second in a series of annual
PACE Applications
workshops. The event is open to all participants. Registration is required, but free to attend.