PACE Air Quality & Applied Atmospheric Sciences Focus Session
May 11, 2022
Online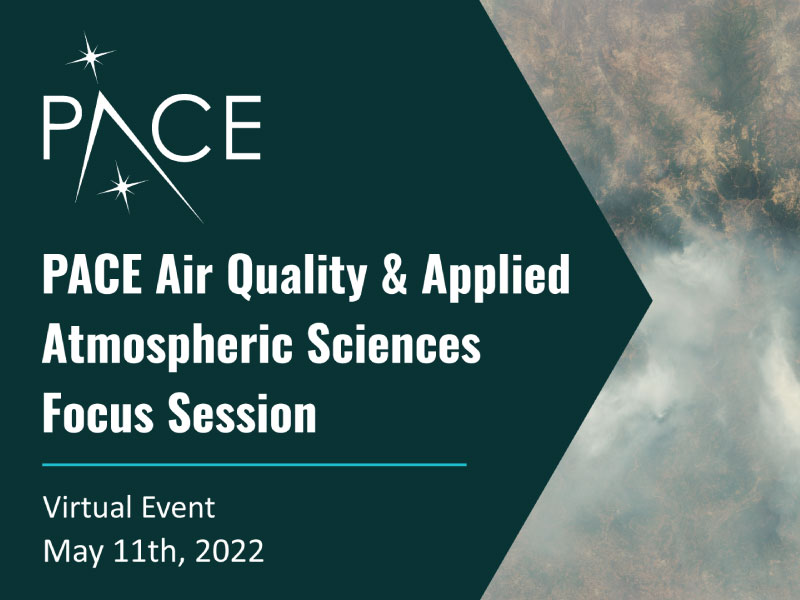 Workshop Archive »
The NASA Plankton, Aerosol, Cloud, ocean Ecosystem (PACE) Applications team invites the science, applications, and decision-making communities to our second community focus session on May 11th at 10:00 AM Eastern.
This one-day event invites active participation and round-table discussion on future uses of PACE satellite data products to support research & applied sciences in the context of air quality and applied atmospheric sciences.
The objectives of the event are:
Increase awareness of PACE data, research, and applications related to air quality, health, and atmospheric sciences.
Understand potential PACE data users and the challenges that they may experience when using PACE data.
Explore advanced & exploratory PACE data products that may add value to the research and applied science user community, including synergies with other related NASA missions.
PACE community development, encouraging engagement/inclusivity with the user community, other Earth missions, resource managers, decision-makers, and capacity development.
The focus session will encourage open discussion from individuals and organizations from diverse backgrounds including universities, government agencies, and commercial, non-profit, and private sectors.
The event is open to all participants, though tickets are limited. Registration is required, but free to attend.
Agenda »
Speaker Bios »