Lorraine Remer
Email | Website
Joint Center for Earth Systems Technology, University of Maryland Baltimore County
Title: PACE Deputy Science and Applications Team Lead
ROSES Proposals
Unified Algorithm for Aerosol Characterization from OCI on PACE 19-PACESAT19-0014 (2020)
Co-Is: N. Christina Hsu, NASA Goddard Space Flight Center (GSFC); Robert C. Levy, NASA GSFC; Omar Torres, NASA GSFC
Aerosol Absorption Retrievals from Base-Line OCI Observations: Risk Reduction for Atmospheric Correction of the PACE Mission (2013)
Science Meeting Presentations (12)
PACESAT UV Subgroup
Remer, L. (07-Oct-21)
PDF (1.1 MB)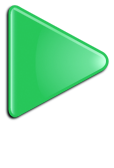 Unified Algorithm for Aerosol Characterization from OCI
Remer, L. (06-Oct-21)
PDF (278 KB)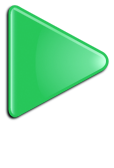 Unified Algorithm for Aerosol Characterization from OCI on PACE
Remer, L., Hsu, N.C., Levy, R.C., and Torres, O. (03-Jun-20)
PDF (735 KB)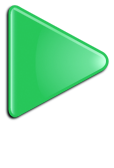 Aerosol Absorption Retrievals from Base-Line OCI Observations
Remer, L., Mattoo, S., Levy, R., Torres, O., Ahmad, Z., Martins, V., and Gupta, P. (16-Jan-18). Click
here
to view this presentation with audio.
PDF (4.3 MB)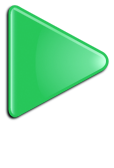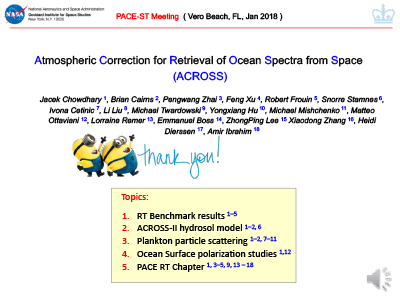 Atmospheric Correction for Retrieval of Ocean Spectra from Space (ACROSS)
Chowdhary, J., Cairns, B., Zhai, P., Xu, F., Frouin, R., Stamnes, S., Cetinić, I., Liu, L., Twardowski, M., Hu, Y., Mischenko, M., Ottaviani, M., Remer, L., Boss, E., Lee, Z., Zhang, X., Dierssen, H., and Ibrahim, A. (16-Jan-18). Topics: 1) RT benchmark results, 2) ACROSS-II hydrosol model, 3) plankton particle scattering, 4) ocean surface polarization studies, and 5) PACE RT chapter. Click
here
to view this presentation with audio.
PDF (2.0 MB)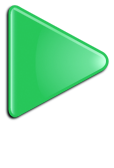 Aerosol Absorption Retrievals from Base-line OCI Observations
Remer, L., Mattoo, S., Levy, R., Torres, O., Ahmad, Z., Vanderlei, M., and Gupta, P. (17-Jan-17). Click
here
to view this presentation with audio.
PDF (9.9 MB)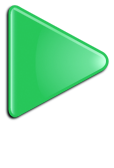 Progress Report From PACE's Science Team
Boss, E. and Remer, L.A. (26-Feb-16). PACE, NASA's upcoming strategic climate continuity mission is due to launch in 2022. PACE will have a hyperspectral radiometer spanning from 350 to 800nm, several SWIR bands, and a polarimeter, allowing it to be used for studies of ocean biogeochemistry as well as to study clouds and aerosols distribution and microphysics. In anticipation to the launch, a Science Team was competed for and assembled who is tasked with working on algorithms to retrieve inherent optical properties and on atmospheric correction.
MORE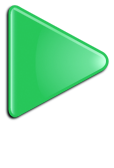 Advanced Ocean Color Sensor Observations for Retrieval of Cloud, Aerosol and Water Vapor Properties
Remer, L.A. (26-Feb-16). While the next generation of ocean color sensors offers enhanced capability to retrieve ocean parameters and to advance ocean science, these sensors also offer enhanced capability for observing atmospheric parameters, as well. In particular advanced ocean color sensors are expected to broaden the spectral range to include bands from the UV to the SWIR, inclusive on a single instrument that will observe aquatic, terrestrial and atmospheric targets with the same geometry, same spatial resolution, and similar calibration strategies across the entire spectrum.
MORE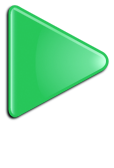 Aerosol Absorption Retrievals from Base-Line OCI Observations: Risk Reduction for Atmospheric Correction of the PACE Mission
Remer, L., Mattoo, S., Levy, R., Torres, O., Ahmad, Z., Martins, V., and Gupta, P. (21-Jan-16)
PDF (2.4 MB)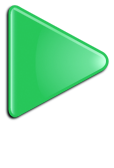 Polarimeter Report and its Conclusion - Polarimetry or Multi-angle Studies, in Progress
Remer, L. (20-Jan-16)
PDF (7.2 MB)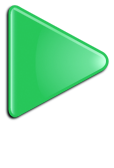 4 System Vicarious Calibration for PACE Mission
Bontempi, P. and Ghuman, P. (16-Jan-15)
PDF (1.5 MB)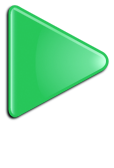 Aerosol Absorption Retrievals from Base-Line OCI Observations: Risk Reduction for Atmospheric Correction of the PACE Mission
Remer, L., Levy, R., Torres, O., Ahmad, Z., and Mattoo, S. (14-Jan-15)
PDF (1.6 MB)